CRDF Global Welcomes New Members to its Board of Directors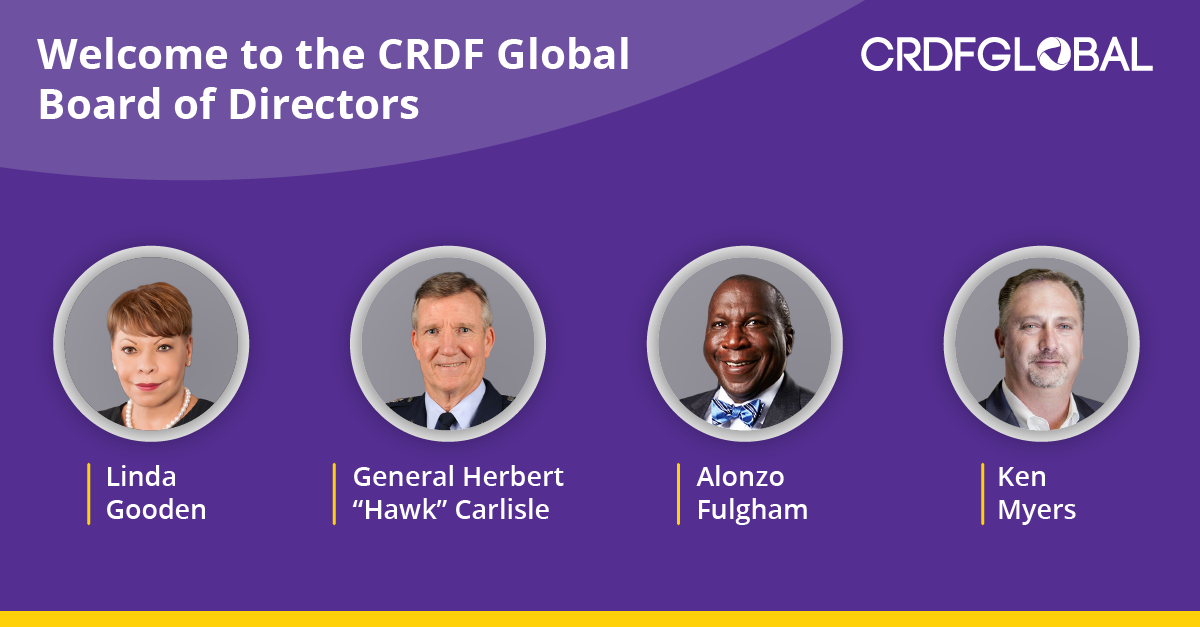 Arlington, VA., August 1, 2023 – CRDF Global is pleased to announce four additions to its Board of Directors: Ms. Linda Gooden; General Herbert "Hawk" Carlisle, USAF, Retired; Mr. Alonzo Fulgham and Mr. Kenneth (Ken) Myers III.
"CRDF Global's mission for nearly 30 years has been to build awareness and capacity around the world's most pressing global science and technology threats. With the advancement of science and technology and the shifting geopolitical landscape, these threats have increased in scale and complexity," said Chief Executive Officer Mike Dignam. "I am honored to welcome Linda, Hawk, Alonzo and Ken as we continue to provide the necessary capability and collaboration among our global partners to help provide safety, security and sustainability to all our beneficiary communities."
Linda R. Gooden joined the CRDF Global Board of Directors in March 2023. After nearly 40 years of working in the Aerospace and Defense industry, Ms. Gooden retired as the Executive Vice President of Lockheed Martin's Information Systems & Global Solutions (IS&GS) business area and an officer of the Lockheed Martin Corporation. Under her leadership, IS&GS included 40,000 experienced professionals who established a world-class cyber center; created digital platforms; led large scale transformations; and provided integrated mission critical information solutions, cyber solutions, and services in support of worldwide missions for civil, defense, intelligence and other government customers.
Ms. Gooden actively supports professional, academic and civic organizations, serving on numerous executive boards including Chairing Armed Forces Communications and Electronics Association (AFCEA) International; Chairing the University System of Maryland Board of Regents; and Chairing Audit for the American Heart Association. She is also a member of the Board of Directors for General Motors, Home Depot, and Washington Gas.
"Linda's significant contributions to the technology, business and aerospace defense fields have created a platform from which she promotes women in leadership roles, particularly in the business and technology sectors," said Dignam. "Having worked closely with Linda for many years at Lockheed Martin, I know her insights, particularly as we expand our information security framework and service offerings, will be invaluable."
General Herbert "Hawk" Carlisle, USAF, Retired joined the CRDF Global Board of Directors in July 2023. General Carlisle's last assignment in the US Air Force was as commander, Air Combat Command at Langley Air Force Base in Virginia. In this role he was responsible for organizing, training, equipping and maintaining combat-ready forces for rapid deployment and employment while ensuring strategic air defense forces are ready to meet the challenges of peacetime air sovereignty and wartime defense. Prior to this role, General Carlisle served as commander of Pacific Air Forces; the air component commander for U.S. Pacific Command; and executive director of Pacific Air Combat Operations staff, Joint Base Pearl Harbor-Hickham, Hawaii.
After retiring from his 39-year career in the Air Force in 2017, General Carlisle served as president and chief executive officer of the National Defense Industrial Association for nearly five years and led the organization through some of the most significant milestones in its history. He also serves on the board of the Stimson Center.
"The CRDF Global executive staff and board of directors is honored to welcome General Carlisle ("Hawk") as the first flag officer to join our leadership team," said Dignam continued. "Hawk has an unmatched perspective on leading complex, precise and high consequence U.S. government missions in defense, which he has complemented in recent years with leading civilian organizations that align with CRDF Global's focus on international security, research and applied technology."
Alonzo Fulgham joined the Board of Directors in July 2023, after serving as a member of CRDF Global's Advisory Council. Mr. Fulgham is currently the Executive Vice President-Defense/ Homeland at VIATEQ Corporation. Prior to holding this position, Mr. Fulghan served as President of Galileo Energy Partners, LLC, and Senior Vice President for Strategy and Sustainable International Development at CH2M HILL, in addition to establishing TJM International Consultancy. His leadership in development policy, planning and operations is informed by his tenure as the Acting Administrator (CEO) of the United States Agency for International Development (USAID), a position he was appointed to by President Barack Obama in 2009 after serving as the first Chief Operating Officer (COO) ever appointed to the agency.
While leading USAID, Fulgham managed a diverse global enterprise of over $20 billion annually in more than 88 countries, with a professional staff of more than 7,000 worldwide. Previously, Mr. Fulgham served as USAID Mission Director to Afghanistan and Director for South Asian Affairs at USAID. He serves on the Executive Committee of the American Academy of Diplomacy.
"Alonzo's insight into the development space, shaped by his lifelong contributions to missions within USAID and industry, has already provided tremendous perspective and guidance to CRDF Global, "said Dignam. "We're honored to now count him among our Board of Directors, particularly as we seek to increase our impact on human security around the world."
Kenneth Myers III served as President of CRDF Global prior to joining the Board of Directors in July 2023. As President, Ken contributed to the organization's strategic growth with his deep understanding of security assistance, nonproliferation and counterproliferation programs and policies in the Departments of Defense and State. Prior to joining CRDF Global, Ken served as the Senior Vice President for Defense and Security at PAE. In this role he led international programs to counter threats from weapons of mass destruction and provide solutions in forensics, biometrics, training, and laboratory management. Prior to joining PAE, Ken was the longest serving Director of the Defense Threat Reduction Agency (DTRA) and U.S. Strategic Command Center for Combating Weapons of Mass Destruction.
From 2003 to 2009, Ken served as a Senior Professional Staff Member on the U.S. Senate Committee on Foreign Relations. He was a senior advisor to Senator Richard Lugar of Indiana, the committee's Chairman, on European, former Soviet Union, Caucasus, and Central Asian affairs. He vetted nominees for ambassadorial posts and played a leading role in critical foreign policy debates including the Nunn-Lugar Program, NATO, arms control, arms sales, India, Iran and North Korea.
"Ken has lived the mission of CRDF Global since its origin and as it has evolved, from his support of Senator Lugar's work in non-proliferation legislation to his leadership of DTRA," said Dignam commented­. "His deep understanding of security assistance, nonproliferation and counterproliferation programs and policies have already been enormously beneficial to CRDF Global, and we will rely on his continued guidance in this new role."