CRDF Global Hosts Second Water & Resource Management Workshop in its Sustained Dialogue on Peaceful Uses Series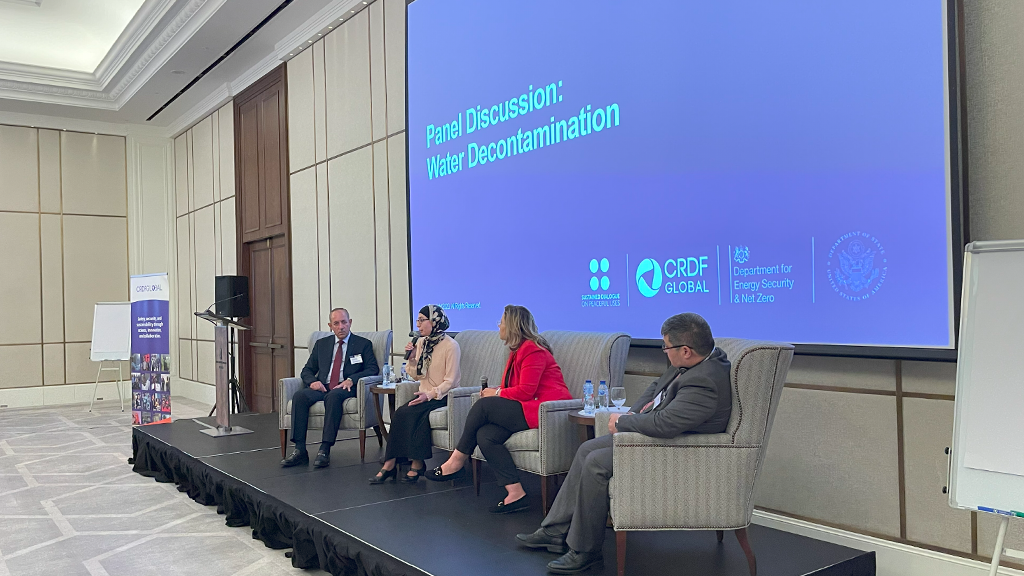 On June 20-22, 2023, CRDF Global hosted the Symposium on Water and Resource Management Using Isotopic Techniques in the Middle East and North Africa (MENA) in Amman, Jordan. This workshop, part of the Sustained Dialogue on Peaceful Uses (SDPU) program, was the second installment of a three-part workshop series focusing on water safety and security.  
Following on the momentum of the first webinar event in May, CRDF Global convened experts from the Water Authority of Jordan (WAJ), the Jordan University of Science and Technology (JUST), the International Atomic Energy Agency (IAEA), and other organizations from the region to continue the productive discussions on how the SDPU can accelerate progress towards the United Nations Sustainable Development Goals (SDGs).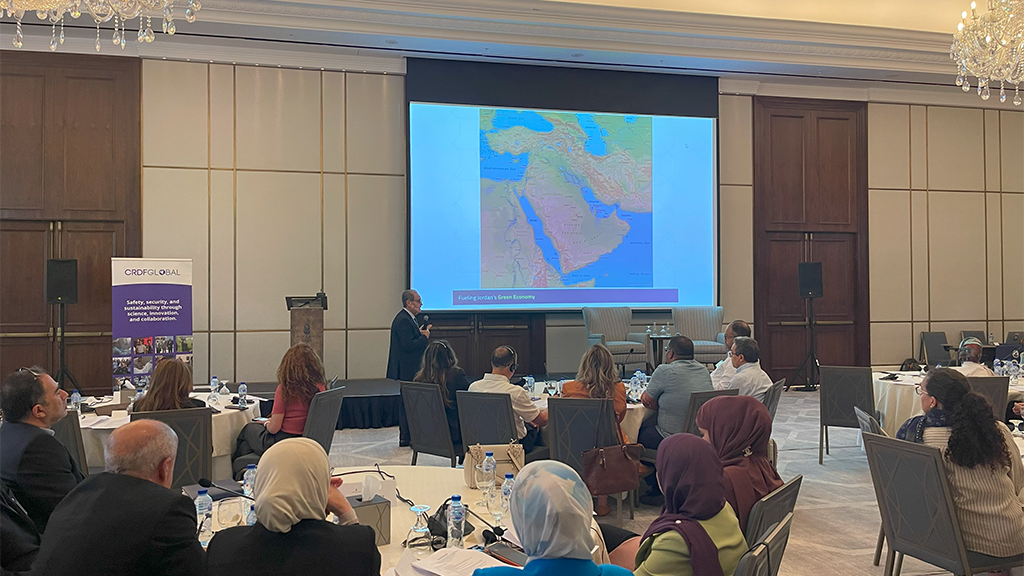 The session was opened by Ambassador Helen Fazey from the U.K. Embassy in Amman. Ambassador Fazey welcomed the progress of the SDPU and spoke about the U.K.'s keen interest in supporting access to nuclear technology as a development tool. She stated that the intersection of the scientific and development communities will be key to making progress in water access and environmental resource management. Ambassdor Fazey's comments were proceeded by a statement from Mr. Mustafa Vahanvaty, the acting Regional Environmental Officer from the U.S. Embassy in Amman, who expressed optimism about the project concept brainstorming work and thanked the organizations for giving these issues attention. The opening remarks were followed by three days of presentation and discussions, which included speakers from WAJ, Tunisia's National Center for Nuclear Sciences and Technologies (CNSTN), the National Engineering School of Sfax, Morocco's National Center for Energy, Sciences, and Nuclear Techniques (CNESTEN), and JUST. In the closing remarks, Ms. Christine Martin of the U.S. Department of State thanked the participants for their contributions and emphasized the U.S. commitment to ensuring the participating organizations and other Treaty on the Nonproliferation of Nuclear Weapons (NPT) members have equal and ready access to nuclear technology in international development applications.
This event and the wider SDPU program are organized with the U.S. Department of State's Office of Multilateral Nuclear and Security Affairs (MNSA) and the U.K. Department for Energy Security and Net Zero (DESNZ) and operate in coordination with the International Atomic Energy Agency (IAEA). The SDPU, operated by CRDF Global, aims to expand the conversation on peaceful uses of nuclear science and identify opportunities for using nuclear technology in pursuit of the United Nations SDGs. For more information about this event and the SDPU, go to www.sustaineddialogue.com.