Event Recaps
Cyber Incident Response Training in the Western Balkans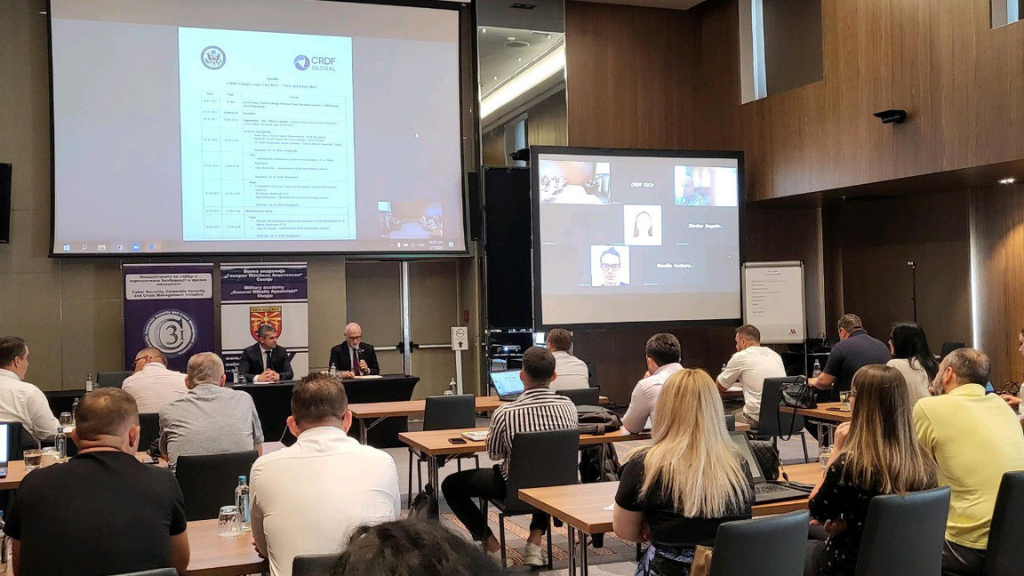 CRDF Global and the Cyber Security, Corporate Security, and Crisis Management Initiative, in partnership with the Military Academy General Mihailo Apostolski, conducted a series of Table-Top Exercises (TTX) for over 60 cyber professionals in Bosnia and Herzegovina, Serbia, Albania, North Macedonia, Kosovo, and Montenegro. Representatives of public and private sectors related to cybersecurity attended the trainings July 7-8 and 11-12. 
These capacity-building TTX workshops provided a basis for Western Balkans government stakeholders to address capabilities and vulnerabilities related to cyber incident response and recovery. The exercises were distinctively based on scenarios concerning cross societal sectors (financial, law enforcement, and defense) and included threats that were also applicable to other domains.
James Stein, USAID country representative in North Macedonia, opened the series of events with an introductory address on the importance of cross-sectoral cooperation among cybersecurity experts to create a robust a cyber defense framework. 
The first day of the Table-Top exercises focused on:
"Confronting Contemporary Cybersecurity Challenges"
"Cyberattack Vectors and Cybercrime Investigation"
"Strategic and Legal Aspects of Governing Responses to Cyber-Based Threats"
On day two, participants engaged in practical exercises based on real-life scenarios from each country's cybersecurity setting. Working in teams, they analyzed the strategic and legal aspects of challenges institutions face in cyberspace, as well as the methods used to combat them on an operative and technical level.
Funded by the US Department of State, these TTX workshops build capacity in participating countries to identify, prevent, and respond to cyber threats.