Event Recaps
CRDF Global Empowers Compliance Professionals with Resources on North Korean Counterproliferation Finance at ACAMS Conference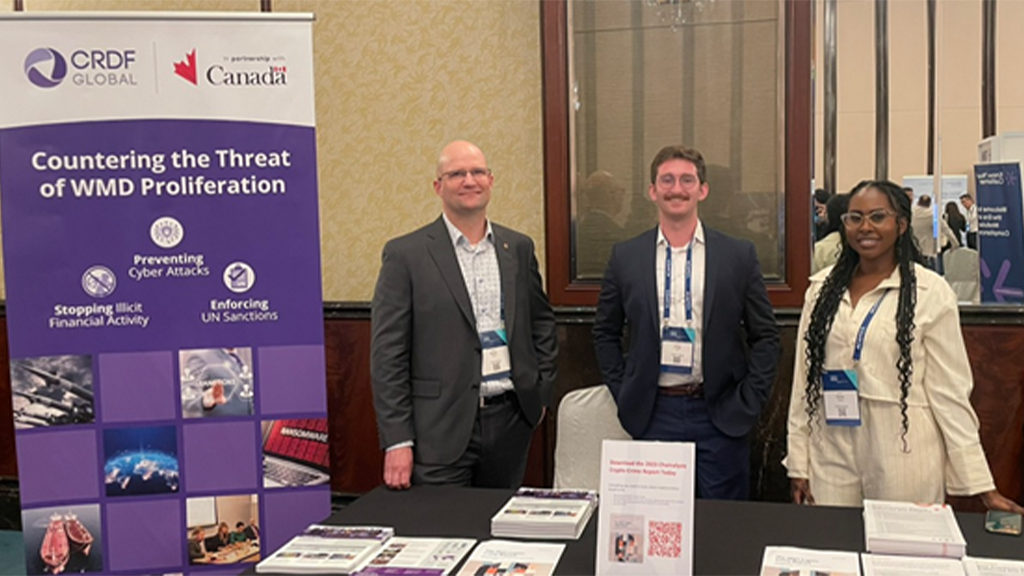 By JuAn Lee-Thacker, CRDF Global Project Associate, Counterproliferation
CRDF Global partnered with cryptocurrency and blockchain experts at Chainalysis at the 14th Annual Association of Certified Anti-Money Laundering Specialists (ACAMS) Asia Pacific Conference in Singapore on April 24-25, 2023 to promote awareness of how North Korea conducts malware attacks on cryptocurrency exchanges to help fund its Weapons of Mass Destruction (WMD) program.
With the generous support of Global Affairs Canada's (GAC) Weapons Threat Reduction Program (WTRP), CRDF Global arranged for Brian Carter, Chainalysis Senior Cybercrimes Specialist, to share his expertise in a panel discussion on "Cybersecurity in the Crosshairs" alongside officials from the United Overseas Bank Limited (UOB), the Singapore Police Force, and the Cybersecurity Agency of Singapore. The panel was moderated by Ser Jin Lee, Head of Compliance at Grab Financial Group. Participants discussed how ransomware attacks are on the rise. From 2020 to 2021, there was a reported 54 percent increase in incidents of ransomware in Singapore alone. Carter discussed how the characteristics of ransomware attacks are consistent worldwide. They are often crimes of opportunity that start with identifying compromised credentials that allow a threat actor to remotely gain control of a system.
When facing ransomware attacks, Carter agreed with other panelists that it was prudent to not publicly share a decision to pay a ransom or not. He noted the National Cyber-Forensics and Training Alliance (NCFTA) as a model Public-Private Partnership (PPP) between law enforcement and private institutions as government organizations and private companies can meet regularly and understand how each prioritize responses to ransomware attacks. Carter concluded positively, stating that even though there is a demonstrable rise in ransomware attacks worldwide, many are rudimentary in complexity. He also emphasized, however, the importance of building an incident-based response.
With the continued support of GAC's WTRP, CRDF Global will deploy open-source experts throughout 2023 to share their available resources and knowledge on DPRK sanctions evasion tactics and counterproliferation finance best practices with audiences of compliance officials at conferences and professional gatherings throughout Asia, the Middle East, and elsewhere.
To learn more about CRDF Global's work in counterproliferation, please click here.