Event Recaps
CRDF Global Convenes Experts and Stakeholders in the Hague to Prevent Rudimentary Chemical Weapon Attacks in the Middle East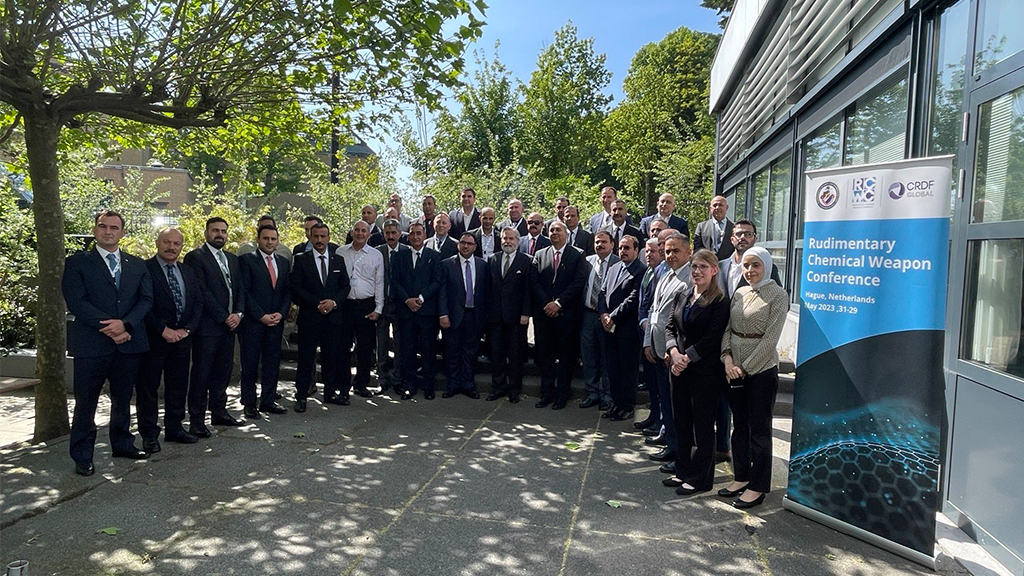 With funding from the U.S. Department of State's Office of Cooperative Threat Reduction, CRDF Global successfully organized the Conference to Prevent Rudimentary Chemical Weapon Attacks in the Middle East. The conference, held in the Hague in late May 2023, brought together 23 participants from various Iraqi and Jordanian ministries, law enforcement, and government agencies. Conference speakers included guests from the Organization for the Prohibition of Chemical Weapons (OPCW), INTERPOL and Federal Bureau of Investigation (FBI).
The primary objective of the conference was to provide information and build capacity for law enforcement in the Middle East to detect and prevent Rudimentary Chemical Weapons (RCW) attack planning, preparation, and execution. The conference also focused on sharing strategies to detect and prevent attacks against public transportation and soft targets using toxic gases and RCW. Throughout the conference, participants received training on identifying chemicals of concern, recognizing pre-attack indicators, and the importance of national and international communication.
The greatest success of the event was the notable cooperation and willingness of both country delegations to share information and knowledge, demonstrating a strong commitment to collaborate in order to effectively combat threats related to the use of RCW in the region.
The event concluded with closing remarks from Mr. Joseph Manso, the U.S. Ambassador and permanent representative to the OPCW, who expressed his gratitude for being present and highlighted the importance of the group in fighting terrorism. He acknowledged the concern about terrorists potentially acquiring chemicals as weapons and emphasized that the attendees, who are on the frontlines, are crucial in dealing with this threat directly. Mr. Manso expressed his eagerness to listen to their experiences and thoughts on training and future steps to improve. He assured them of the international community's support in deterring the use of chemical weapons, mentioning the newly opened ChemTech center that will enhance the OPCW's scientific capabilities and facilitate international cooperation. Mr. Manso emphasized the ongoing threat posed by state and non-state actors and the need for capacity building. He thanked the attendees for their dedication and interest in protecting their countries and citizens from chemical weapons.
CRDF Global echoes Mr. Manso's thanks to all attendees as well as the guest speakers whose perspectives inspired collaboration and provided valuable insight to all participants