Our Voices
Advanced Counterproliferation Finance Capacity-Building Training for Financial Compliance Professionals in Brazil for Global Affairs Canada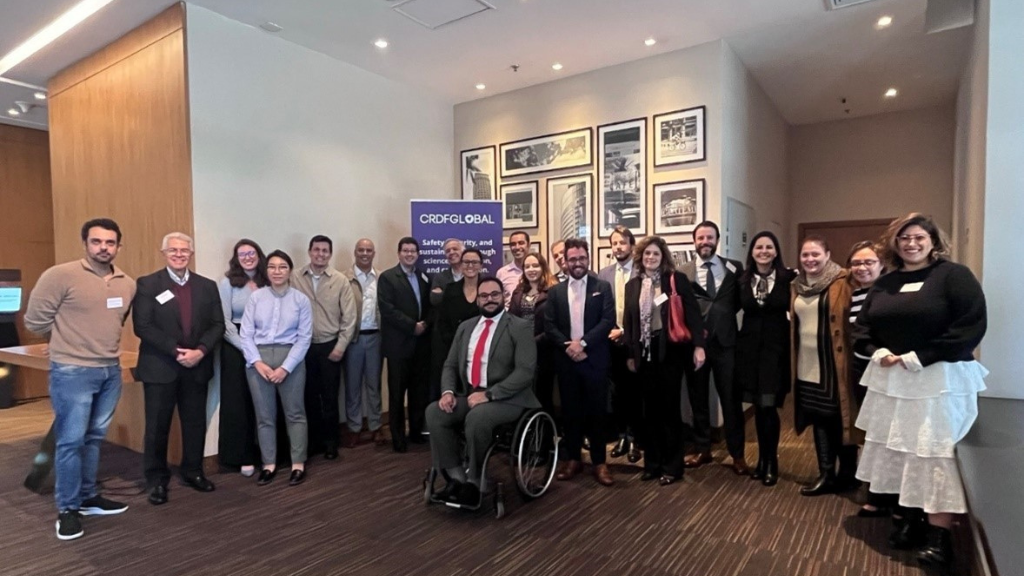 By Thomas Nolan, Project Associate, CRDF Global
This workshop, made possible by the generous support of Global Affairs Canada's (GAC) Weapons Threat Reduction Program (WTRP), continued CRDF Global, GAC, and Kharon's efforts to raise awareness of and build knowledge about North Korean tactics used to generate revenue for its WMD program through proliferation finance activities. In addition to increasing awareness of UN sanctions on North Korea, CRDF Global aimed to help central bank officials and compliance officers in Brazil build robust compliance programs in their organizations, learn new tools and resources on Know-Your-Customer and due diligence efforts, reduce the incidence of UNSCR violations, and bolster regional enforcement of DPRK-related sanctions.
As North Korea applies its malign influence to exploit South America's financial system to evade UN sanctions on its weapons programs, CRDF Global convened compliance professionals from private financial instructions, central banking officials, and compliance-focused professionals from financial advisory firms in Brazil for an advanced counterproliferation finance capacity-building workshop in São Paulo on May 23–24, 2022. CRDF Global partnered with the financial risk management firm Kharon to train 19 officials on updated sanctions implementation guidance and information on DPRK proliferation finance tactics to understand the specific risks that are faced in Brazil as well as adapt to international obligations pursuant to UN Security Council Resolutions (UNSCRs) targeting North Korea's weapons of mass destruction (WMD) program.
Countering North Korea's Attempts to Exploit Brazil's Growing Financial Sector

North Korea has deployed a variety of tactics in South America to evade UN sanctions on its financial activity in recent years. According to a report in July 2021 by NK News, Brazilian export companies and their financial backers may be exposed to secondary sanctions risk by trading goods that may be re-exported into North Korea along the border provinces in China. U.S. authorities and private sector cybersecurity companies have also cited that North Korea continues to target banks and regional financial hubs in South America to launder money to bypass UN sanctions.

CRDF Global collaborated with counterproliferation finance and due diligence experts at Kharon, such as Joshua Shrager and Dr. Priscilla Kim, to develop a training program to help public and private sector professionals develop an enhanced awareness of North Korea's illicit financial and commercial trade. The two-day workshop offered a comprehensive agenda, allowing participants to:
Conduct fact-based analysis of case studies and typologies highlighting the commercial activities and access points to the global financial system of networks sanctioned under counterproliferation regimes;
Learn about and consider risk management opportunities to address counterproliferation-related sanctions evasion and circumvention techniques; and
Strengthen their understanding of global best practices, regulatory requirements, and international legal obligations pertaining to counterproliferation sanctions-related risks.
After delving into several tailored case study examples of the tactics and strategies that North Korea deploys to dodge the watchful eyes of compliance programs in South America, participants engaged experts at CRDF Global and Kharon in four interactive tabletop exercises to utilize open-source research techniques to identify red flags and devise solutions to respond to and report these activities. Mr. Shrager and Dr. Kim led participants through the pertinent procedures and processes for conducting these research tasks with participants remarking that the interactive sessions offered insightful practice for implementing their knowledge gains in a controlled environment, solidifying the thematic topics covered during the session.

Participants also had the opportunity to hear closing remarks from Mr. Juan Pablo Valdes, Minister Counselor at Canada's Embassy to Brazil, on the importance of sanctions-related compliance capacity-building for public and private financial institutions in Brazil. As the world returns to in-person and hybrid engagements, events such as this demonstrate that connectivity is as important as ever in the fight against sanctions evasion and WMD-proliferation.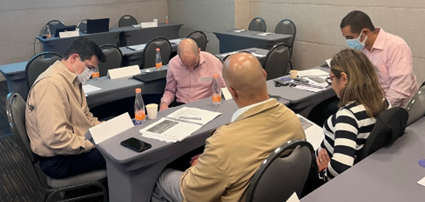 This engagement was organized by CRDF Global Project Lead Amanda Elias who noted that "Not only did the participants come away from this workshop with a strong set of actionable skills, but they also learned a lot from each other and created new relationships that could help promote further dissemination of this knowledge within the financial sector of Brazil."