A Collaborative Milestone for Enhancing Cybersecurity in Ukraine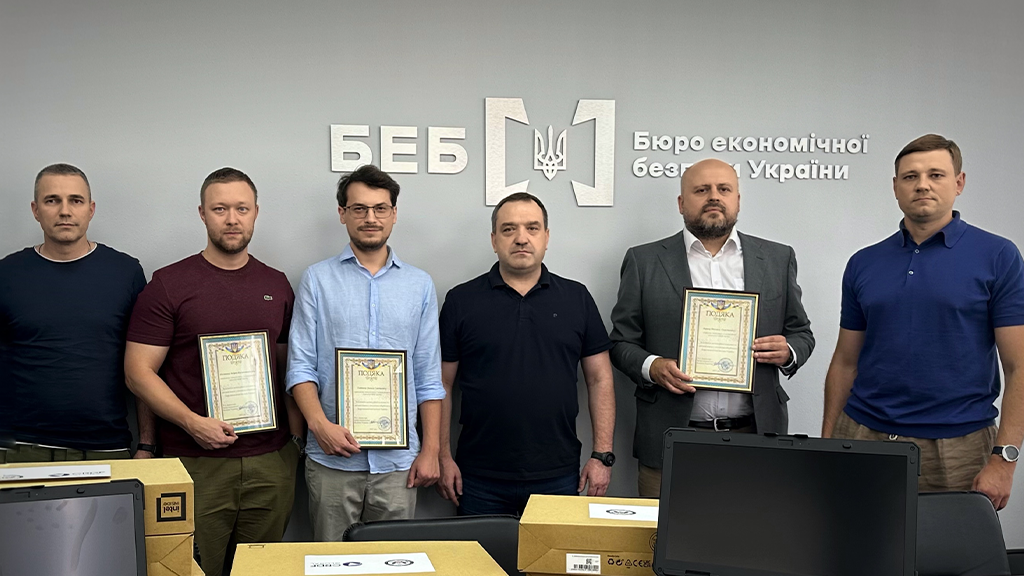 In partnership with the U.S. Department of State, CRDF Global continues to contribute significantly to Ukraine's cyber defense efforts and bolster the country's cybersecurity by working closely with local government stakeholders.
Through a dynamic collaboration with the Economic Security Bureau of Ukraine (ESBU), CRDF Global has achieved a commendable milestone in fortifying the cyber resilience of Ukraine's public sector. This achievement comes in the form of 12 cutting-edge laptops, meticulously designed to withstand even the most complex and unpredictable conditions. These powerhouse machines are now in the capable hands of ESBU analysts and investigators, empowering them to carry out their crucial tasks with unparalleled efficiency and precision.
The impact of these laptops reaches far and wide, as they will be distributed to both territorial branches and the central apparatus. This strategic distribution ensures seamless and effective operations at every level of ESBU's functioning.
Andrii Pashchuk, the Acting Director of the Economic Security Bureau of Ukraine, aptly put it, "We hope that our cooperation with CRDF Global will continue to deepen, as we have many directions for cooperation." Such collaborative efforts are the backbone of progress in the realm of cybersecurity.
A heartfelt round of applause goes out to the individuals who have played pivotal roles in this journey, including: Mykhailo Verych, Senior Operations Manager; Andrii Nikitenko, Senior Project Lead; Danylo Haidenko, Senior Project Lead; and Olha Salenko, Project Associate. Their dedication and hard work have made a significant contribution to strengthening the cybersecurity of the Economic Security Bureau of Ukraine.
CRDF Global's grant assistance marks a monumental stride for the ESBU, kickstarting an ongoing material and technical assistance project. With this achievement, the team is proud to march forward, united in our commitment to enhance Ukraine's cyber resilience and security and ready to stand together in the pursuit of a safer and more secure digital landscape.