Grant Program Forges Networks Between Women Working in Nuclear Security and Nonproliferation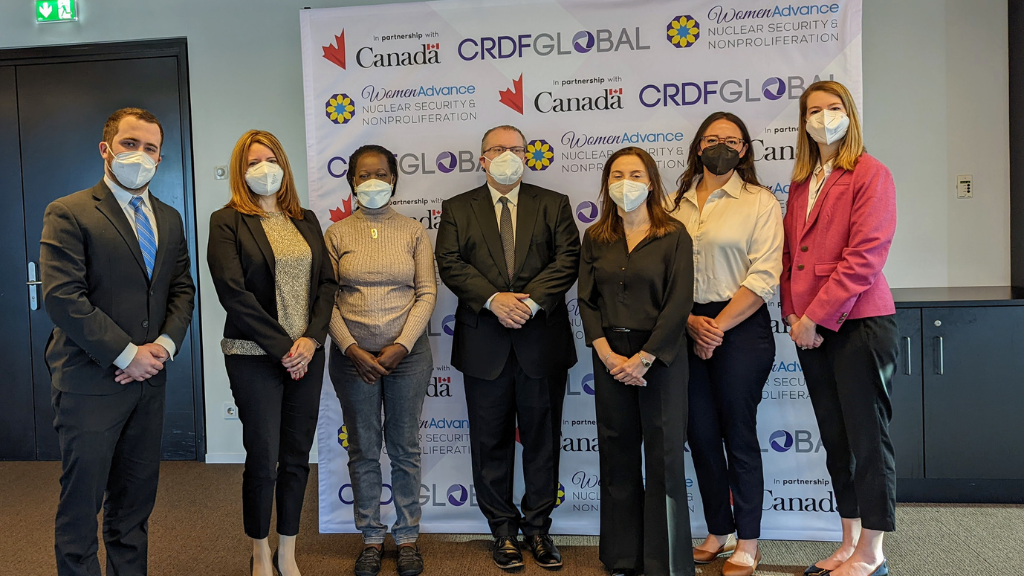 In partnership with Global Affairs Canada (GAC), CRDF Global recently completed a grant program for international women working in nuclear security and nonproliferation fields. The program promotes gender equality by giving participants a forum to share tools and tactics for addressing barriers in their careers. Launched in early 2021, the grant competition selected 10 women from 10 countries to engage in a remote learning skill development training series, implement individual grant projects at their home institutions, and a capstone experience with a two-day workshop in Vienna, Austria.

While women's representation in the nuclear security and non-proliferation field has grown in the last decade, the gender gap remains substantial, especially in leadership and decision-making roles. Cultural barriers in many countries prevent women from entering the field, advancing their careers, and being recognized for their contributions. Through this partnership with GAC, CRDF Global is working to overcome these barriers by:
Improving connectivity among women scientists and researchers in different regions of the world to improve prevention, detection, and/or response of nuclear security and non-proliferation challenges.
Increasing capacity at the grantees' home institutions to support gender equity programs, strengthen advocacy networks among women and allies, and develop roadmaps to ensure that each grantee project has a sustained impact.
Sharing knowledge gains with grantees' home institutions which leads to strengthening the international nonproliferation regime and nuclear security policy instruments.
Creating women advocates in partner countries who will be responsible for developing new culturally appropriate ways for including and promoting more women in nonproliferation and nuclear security industries.
Program participants included academics, physicists, operators, regulators, policy personnel, and advocates from Argentina, India, Indonesia, Kenya, Malaysia, Mexico, Nigeria, South Africa, Turkey, and Ukraine. Each of the women serves as a mentor for junior staff, students, and colleagues at their institutions. You can learn more about our individual grantees here.

Remote Learning Skill Development Training Series
In September 2021, CRDF Global convened a series of skill building webinars providing grantees with training on contemporary nuclear security topics, project management, professional development, and monitoring and evaluation. The speakers addressed contemporary cybersecurity risks in the nuclear security sector, emerging technology, the impact of COVID-19 on nuclear security, and the future of the international nuclear security framework.
The participants also received remote access to CRDF Global's vast catalog of recorded training materials on transportation security of nuclear materials, nuclear security in the Middle East, the nuclear fuel cycle, specific challenges related to small module reactors, and additional non-proliferation issues.

Individual Grant Projects
Following the skill-building webinar series, CRDF Global worked with each grantee to finalize their grant projects which sought to engage over 800 women combined at their home institutions.
Some highlights of their projects include:
Four-part webinar series on nuclear security, safety, and medicine in Indonesia
Interviews with female nuclear security experts, a webinar, and the publication of a manual of female nuclear security champions in Argentina
Fieldwork engaging high-school-aged children in South Africa on nuclear literacy
Series of radio programs promoting the peaceful use of nuclear power in Nigeria
Development of empowerment course in Mexico titled "The Power of Diversity".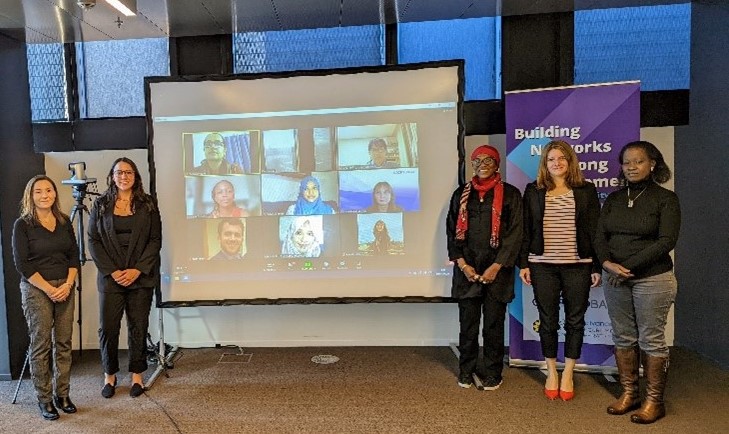 The grant program culminated in a hybrid capstone workshop in Vienna, Austria in March 2022. The grantees presented on the successes and challenges of their projects and engaged in a panel discussion with Vienna-based women experts in nuclear security.

CRDF Global worked closely with Global Affairs Canada to create opportunities for grantees to present their projects to representatives and ambassadors based in Vienna from their home countries. Ambassador Dr. Suleiman Sauda Umar, the Nigerian Ambassador to the Republic of Austria and Permanent Representative to the International Organizations in Vienna, highlighted how female nuclear security practitioners often are the vanguard of innovation. Similarly, the Ambassador stressed how education can serve to free women from cultural and religious barriers against progress and gender equity. In addition to hosting Ambassador Umar of Nigeria, CRDF Global was pleased to be joined by Ms. Işıl Işık Civelik, Counselor at the Permanent Mission of Turkey to the International Organizations in Vienna.

CRDF Global is proud to have assisted Global Affairs Canada as they support the global effort to improve gender equality and the empowerment of women working in important nuclear security and nonproliferation missions.